ADP kicked off the Business Showcase Series program this fall and it was not surprising to see that more chairs were needed for all of the students in the largest classroom in Allgood Hall. The program can attribute its success to the ongoing nine year partnership between ADP and the Hull College of Business.
As an "employer of choice", students were eager to learn more about ADP's business culture, developing their professional skills, and learning about the future career opportunities at ADP. Dave Brendza, the Vice President of the Augusta ADP location, other senior executives, and Hull College alumni shared their experiences and career paths as ADP associates. Following the presentation, students were able to interact with the ADP representatives during an informal reception and were invited to attend the "Executive in Residence" program that will be facilitated on September 13th to continue engagement with ADP leadership.
When asked what is most important to pursuing a career at ADP, Dave Brendza said that being able to articulate well and clearly is at the top of the list. ADP is a Human Capital Management company that provides products and services that allow companies to function properly. Payroll, human resources, employee benefits, and retirement benefits are just a few of the many functions ADP provides. Client service is a large part of ADP's services, so being able to properly resolve issues with clients is imperative. With client contact being 70% of their current positions, "it is invaluable for you to be able to speak well", says Brendza. Brendza also said that employers more often than not will pick a potential employee based on their ability to "articulate their story" over someone who had a high GPA without the needed communication skills.
ADP currently has 100 jobs open with 1,443 current employees and is hoping to have 1,600 employees by the end of summer 2019. ADP hires five to eight students a year for internships and converts 85% of interns into full time positions. They also hired over 30 graduates out of the 100 Hull College graduates in May. Brendza stated that students should take advantage of networking opportunities with companies and staff through the school, because they are instrumental in helping you find a career once you graduate.
The Hull College is proud to serve as a partner with ADP and the partnership is just one example of engagement with the business community. The Hull College plans to expand its business engagement efforts and looks forward to developing similar partnerships with other organizations through its Business Showcase Series and other events.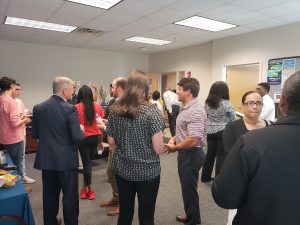 By Bridget Maciorowski