Accounting students were abuzz as they waited for the doors to open to the annual Accounting Night, hosted by the Knox School of Accountancy in the James M. Hull College of Business on September 13th. This event provided students the opportunity to engage with accounting employers and alumni to learn about career options and employment opportunities in the field.
The event began and ended with networking sessions, where students were able to network with the 20+ attending organizations and alumni. After networking, the Dean of the Hull College of Business, Dr. Rick Franza, and honored speakers spoke about the accounting program, accounting field, and the experiences they have gained as a result of the accounting program. Dr. Franza began the formal program with honoring the Knox scholarship recipients, alumni, and organizations in attendance. He stressed the importance of networking events, because they can "provide great knowledge that students can use in the workplace," and the accounting students agreed. "All accounting students should utilize this great networking opportunity," said Macie Witcher, a senior Accounting major. "These events give you an idea of what jobs will be like and help get your feet in the door."
Sarah Murray, the distinguished alumni speaker, is an Internal Auditor at Savannah River Nuclear Solutions. She spoke about when she first began college at Augusta University, she was unsure of what major to select. After realizing her initial chosen major wasn't for her, she chose the Hull College of Business because of her positive experience with the faculty, staff, and classes. "I fell in love with the college, the Career and Academic Planning (CAP) Center, and the small class sizes," said Murray. She emphasized the importance of internships and utilizing the many resources that the Hull College provides their students. She said that utilizing networking events, workshops, and the CAP Center can lead to an opportunity "snowball effect", where it continues to lead to more opportunities in the future.
Beth Cullum, an alumni from the Hull College, was awarded the Abram J. Serotta Award for her outstanding service to students and education while serving as an advocate for the accounting profession. Cullum attained her Bachelors of Business Administration in Accounting in 2009 and began her position as Chief Financial Officer at Center for Primary Care in 2016. Cullum expressed the importance of internships, because she believes that is "how you learn what you want to do and it provides you with great experience." Like Murray, she stressed the importance of utilizing the CAP Center and faculty at the Hull College, because this is the time they will have the advantage to do so.
The Hull College of Business is proud to host opportunities, like Accounting Night, so that students can network with alumni and people in their career interest to better invest in their future, engage their knowledge, and advance their experience.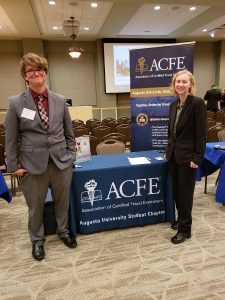 By Bridget Maciorowski