Members of the Augusta University men's and women's golf teams, who are current Hull College of Business students, or recent graduates, were honored for academic achievement by golf coach associations.
Women's team All-American Scholars
Charlotte Alran and Linda Lundqvist, who both graduated in May with marketing degrees, and Teresa Diez-Moliner, now a senior, were honored as All-American Scholars by the Women's Golf Coaches Association.
The criteria for selection to the All-American Scholar Team are some of the most stringent in all of college athletics as the minimum cumulative grade point average is 3.50.
A total of 1,420 women's collegiate golfers were recognized with this annual honor.
Last week, the NCAA and the Division I Committee on Academics bestowed the squad with a NCAA Public Recognition Award. The honor is given to teams with an NCAA Division I Academic Progress Rate in the top 10 percent of all squads in their respective sports based on the APR data released in May 2020.  
"Our women's golf team has consistently performed very well in the classroom. In my ten semesters at Augusta, we have always had a team GPA of 3.0 or higher, including a 3.6 last semester. During that time, 13 players received All-American Scholar recognition for having at least a 3.5 GPA and participating in 50% of our team's competitions," said Augusta University Women's Golf Coach Caroline Hegg. "I'm very proud of how they have excelled both in the classroom and on the golf course. We stress that the 'student' comes first in 'student-athlete' and these women exemplify that standard."
Men's team All-American Scholars
The Golf Coaches Association of America honored four members of the AU men's golf team as Srixon/Cleveland Golf All-America Scholars.
Golfers honored were Dan Sheehan, an MBA student at Hull; Gustav Andersson and McCullough Pickens, who graduated from Hull in May; and Alex van Wyk, a junior studying business at Hull.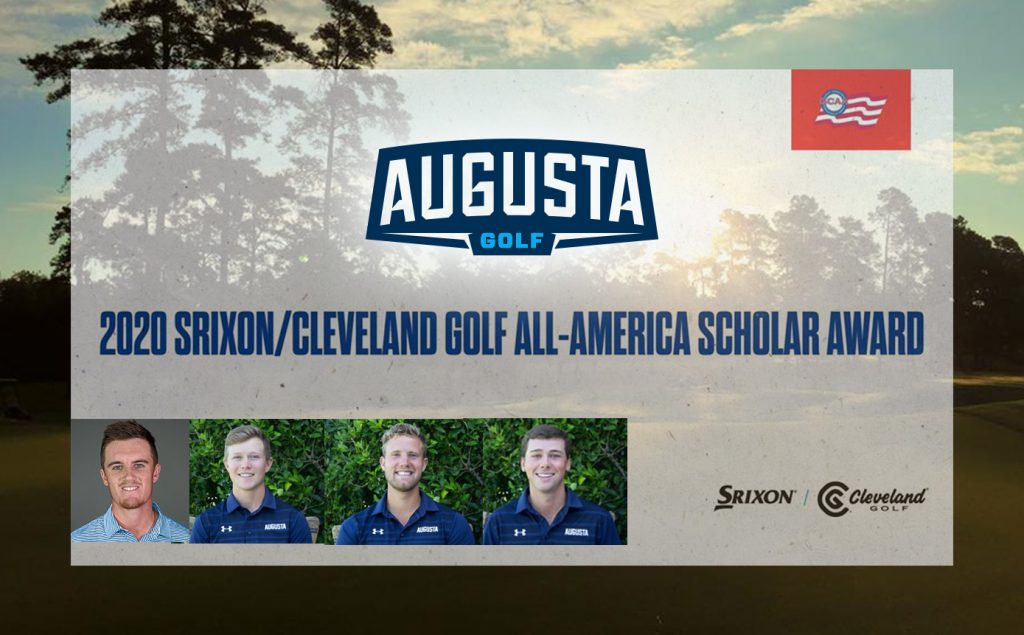 2020 was a record setting year for the award as 614 student-athletes earned the title of All-America Scholar in the first selection group, the most since the awards inception in 1982. An additional 404 student-athletes were named in the second nomination period.
To be eligible for Srixon/Cleveland Golf All-America Scholar status an individual must be a sophomore, junior or senior academically in Division I, II, III, and NAIA, maintain a minimum cumulative career grade-point average of 3.2 and have a stroke-average under 76.0 in Division I, 78.0 in Division II, 78.0 in NAIA and 79.0 in Division III, 77.0 in NJCAA.
The men's golf program in its entirety was also recognized as an All-Academic Team. To be eligible for the team award, the team's grade point average must be a 3.0 or better.
"I am so proud of our student athletes and their accomplishments in the classroom in earning All-America Scholar status from the Golf Coaches Association of America. They are a wonderful example of a true student athlete and are very deserving of this award. I thank them for representing Augusta University and respect them for making academics a top priority," said Jack O'Keefe, Augusta University Men's Golf Coach.
The men's team in May was also honored for academic success by the Mid-Eastern Athletic Conference. All-Academic Team selection is based on sophomore, junior and senior student-athletes with a 3.0 or better cumulative grade point average.