Setting records
2019 was a record year for the Augusta metropolitan statistical area (MSA). The highest ever employment numbers of 245,200 were recorded in each of the months of February, April, and November. The unemployment rate reached a record low of 3.2% in December. The civilian workforce reached a record 270,361 people in May.
Of course, many other cities in Georgia also recorded record numbers as the economic expansion continues into an eleventh year. The chart below shows strong labor market growth in Gainesville, Rome, and Warner Robins over the last year. A second tier of cities, including Atlanta, Augusta, Valdosta and Savannah enjoyed solid growth while some other cites lagged behind.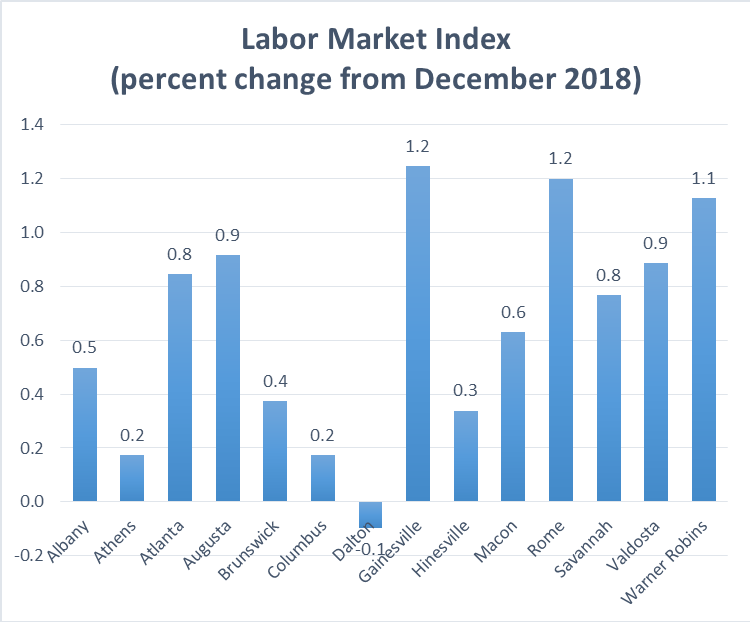 Sectors of the local economy that saw above average employment growth this year included education and health services (up 3.6%), financial activities (1.6%), mining, logging and construction (5.9%), retail (2.6%), and transportation and utilities (3.9%).
Room to grow
So what about 2020? There is still room to grow in the local economy as witnessed by many nearby cities having even lower unemployment rates than Augusta. For example, Columbia and Greenville, S.C., each have unemployment rates of 2.2%, and Charleston's unemployment rate is just 2.0%. In fact, South Carolina's cities have generally grown faster than Georgia's since 2007 (see chart).
Another area that still has potential for growth is wages. Average weekly earnings peaked in Augusta in March 2014 at $928. Then followed four years of decline to $771 in June 2018. Although earnings grew at a faster rate than in the nation in 2019, they are still some way off the national average ($867 locally versus $975 nationally).
Index increases
The Augusta Leading Economic Index (LEI) increased at an annualized rate of 1.2% in December 2019. In fact the second half of 2019 saw consistent strong growth in the LEI providing further support for a strong 2020.