The Hull College celebrated (the many alumni) through multiple evens hosted during the annual "Alumni Weekend". The weekend began with a reception honoring Dr. Paul Goebel, BBA'75, as the 2017 Distinguished Alumnus of the Hull College of Business. Dr. Goebel is currently serving as the Interim Dean of the Rawls College of Business at Texas Tech University is Lubbock, Texas. Dr. Goebel earned his Ph.D in Real Estate from the University of Georgia and he brings his experience from the real estate business into the classroom while also serving in multiple leadership roles within Texas Tech and surrounding communities.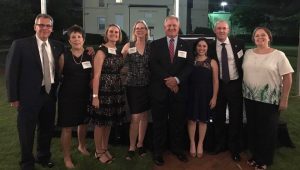 The weekend continued with the celebration of donors, or shall we say "investors", at the annual Scholarship Brunch. The Hull College awards more than $100,000 in scholarships and the students had the opportunity to meet the individuals, families, and organizations who graciously donated the money to establish the scholarships. The air was filled with energy and excitement as students expressed their extreme gratitude with handshakes, hugs, engaging conversation.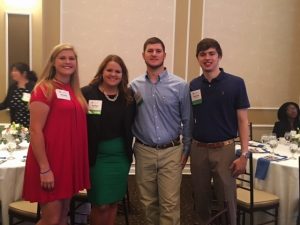 Following the scholarship brunch, 90 Hull College alumni and friends gathered over hot dogs and hamburgers at the local Greenjackets baseball game. Alumni reconnected with Hull College faculty, staff, and fellow alumni while sharing memories of class projects, group presentations, and social gatherings. The evening concluded with fireworks and rekindled, lasting friendships.
Alumni Weekend concluded with final excitement recognizing and honoring the 2017 Jag20 Award recipients, Augusta University's Alumni Emerging Leaders award program honoring 20 outstanding younger alumni who represented the values of Augusta University. Previous Hull College Jag20 winners and the Hull College deans gathered to celebrate the success of Jason Blanchard-BBA'01, Pardon Ndhlovu- MBA'15, Jessica Perry-BBA' 05, and April Weaver-BBA'02.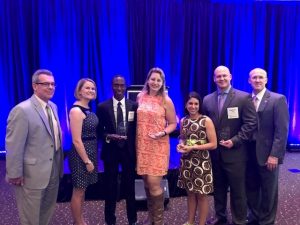 The weekend was filled with fun, laughter, and celebration and as old memories were shared, new memories were created. The anticipation for next year's Alumni Weekend is already building as the Hull College looks forward to continued engagement with alumni until then.