In my last commentary, I mentioned that cricket was a simple sport where the team with the most runs wins. Incredibly, the world cup final on July 14th was played to a tie with both England and New Zealand hitting 241 runs. The match went to a "champagne super over" (the equivalent of soccer penalties) and remarkably both teams again tied, this time on 15 runs! England was declared winners by the fact they hit more boundaries (think home runs) than New Zealand. It is the first-ever world cup for England.
Cricket may be like economics for some. It seems very complicated and baffling to the uninitiated. To that end, I have developed a couple if indices of economics activity for the Augusta MSA aiming to clearly communicate how well the local economy is doing. At their most basic they can be interpreted as up is good and down is bad. Through May, the Leading Economic Index was down in each of the previous three months but still stood 0.1% higher than May 2018. The Labor Market Index was up each month from March through May and stood 0.8% higher than a year ago.
I was at a Federal Reserve event a couple of weeks ago as part of the "Fed listens" tour. Atlanta Fed president, Raphael Bostic, Federal Reserve governor Michelle Bowman, and a panel of Augusta business and civic leaders discussed how they see the Fed's dual mandate affecting the local economy. This is part of the Fed's strategy, tools, and communication review. The discussion was wide-ranging and informative about both the Fed and the local economy but I would highlight three points here.
First, participants mentioned that they are starting to see increased upward pressure on wages which has been largely absent from this long period of economic expansion. Average weekly earnings in the Augusta MSA were 6.6% higher than a year ago and have been rising faster than the US average this year. Companies are having to be more creative in attracting and retaining workers, including more flexible work arrangements such as working from home. In fact, a recent study found workers were willing to earn 8 percent less to benefit from the flexibility of working from home.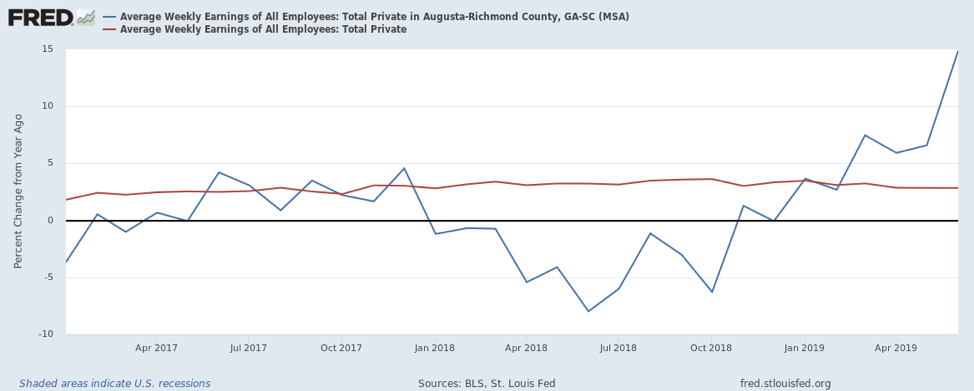 Second, average figures such as the previously mentioned earnings or unemployment hide the variation around this central tendency. Although the US unemployment rate is currently 3.7%, black or African American unemployment is 6% and the teenage unemployment rate is 12.7%. Vermont has the lowest unemployment rate of 2.1% and Alaska has the highest at 6.4% (Georgia ranks 31 at the national average of 3.7%).
Third, participants mentioned how important communication was and suggested the Fed could do better at disseminating information, what it means, and how to use it. My hope is that this commentary also communicates important (cricket and) economic data for the local area that recipients find useful.