The winners of the annual Hull Case Competition were announced during a virtual awards ceremony on Friday, March 12, for the 2021 Hull Case Competition.
Seniors Makayla Donohue and Madison Osborn, known as Team M&M and mentored by Dr. Simon Medcalfe and Tabitha Hollimon, enrolled agent with the IRS and the owner of Virtual Tax & Accounting, wowed the judges with their approach to solving the case that involved a visual representation of spilled M&M candies to represent the chaos in the case company and will split a $3,000 prize as the winners. Both Donohue and Osborn are graduating in May with a Bachelor of Business Administration degree with a concentration in digital marketing.
Teams were asked to write a memo and create a PowerPoint presentation regarding the financial issues of a fictional business named Yur Medical Devices, namely internal control systems and risks currently present at the company. Specifically, teams were asked to address and make recommendations on fraud risk, internal controls, and corporate structure.
Each team of two undergraduate students was given approximately one month to evaluate the case and develop their solution with the assistance of a professional and faculty mentor. The mentors provided guidance to the teams to fine tune their written memos and match their speech to their PowerPoints in advance of their virtual presentations made to the judges on the evening of Thursday, March 11.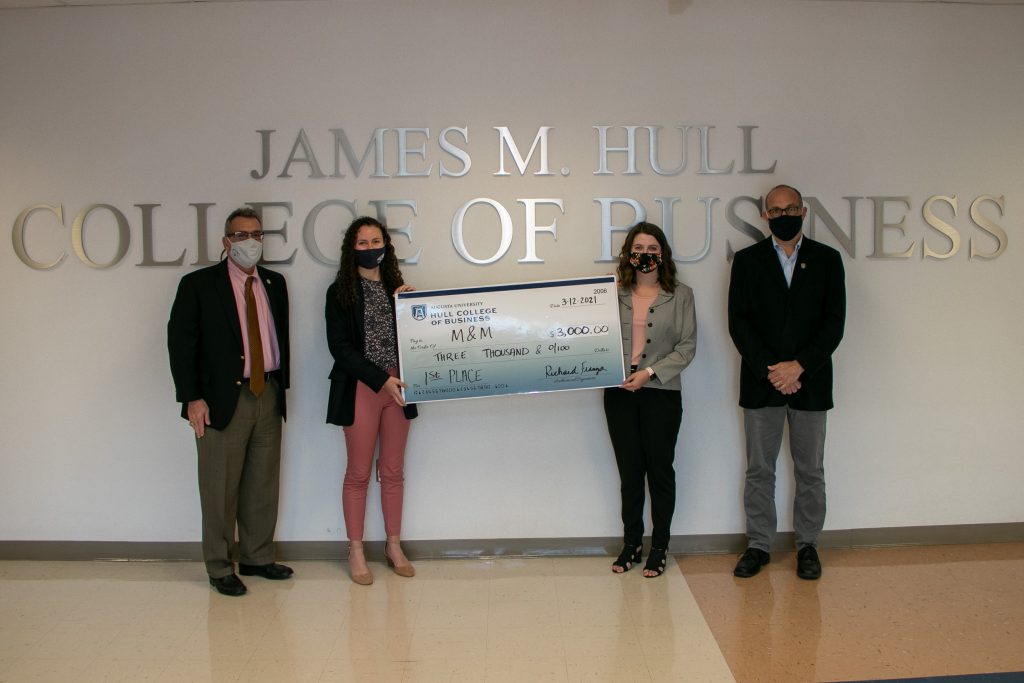 Additionally, the second-place team, Team Game-Set-Match (Ana Faria and Ricard Rubio), mentored by Roger Duke and Farrah Rajabi, special agent with the FBI's Augusta office, took home the second place prize of $2,000; and the third-place team, Team We R Gonna Win (Guanyu Li and Skyler McGregor), mentored by Dr. Sam Park and Greg van Bladel, Operations Group Controller for John Deere's Small Ag & Turf division for the U.S. and Canada, nabbed $1,000. The fourth and fifth place teams, Team Tonts (Kevin Corenstein and Alvaro Quereda) and Team Case Closed (Megan Tychsen and Allie Cohen), respectively, received gift cards for their participation.
The panel of judges included Brian Ozden, the Supervisory Senior Resident Agent of the FBI's Southern District; Ashley Brown, Internal Auditor for the Richmond County Board of Education; Yvonne Turner, Executive Vice President of Finance and the Chief Business Officer for Augusta University; Amy Richardson, owner of Richardson Professional Services; and Chuck McKee, Special Agent with the FBI's Augusta office.
"This is one of our showcase events, and it is great to have everyone involved" said Hull College Dean Richard Franza, Ph.D. "This is [an example of] the experiential learning that we always talk about."
To view the 2021 Hull Case Competition presentations, visit http://bit.ly/CaseVideos2021.