The cricket world cup starts on May 30th when England take on South Africa at the Oval in London. For those not familiar with the sport, it is pretty simple: the team with the most runs wins the match (don't get me started on Duckworth-Lewis-Stern). England is the number one side in the world but India and Australia have strong teams and big upsets have happened in the past.
Determining the best or strongest economy in Georgia is more difficult than determining the winner of a cricket match! Consider these statements:
Augusta had a record number of people employed in February 2019
The fastest growing city in Georgia is Gainesville
Atlanta has added more jobs than any other city since January 2007
All the statements are true, so which is the "best" city?
Augusta did have a record number of people employed in February 2019 with 245,200. However, eight other metro areas in Georgia also had record employment numbers in the first quarter of 2019 (Atlanta, Columbus, Gainesville, Hinesville, Macon, Rome, Savannah, and Warner Robins). With the US national economy also hitting record employment numbers it is not surprising that many local economies are doing well.
So who has come the furthest? Since January 2007 employment in Gainesville has grown 25.7%. Other metro areas seeing strong growth include Atlanta (15.5%), Savannah (14.8%), Hinesville (14.2%), and Augusta (11.1%). However, Hinesville's 14.2% only represents 2,600 jobs while Atlanta has added 379,000. Augusta has added more jobs than any other metro area since 2007 with 24,400.
The national unemployment rate hit a 50 year low in April at 3.6%. Only Savannah and Gainesville have a lower unemployment rate in Georgia.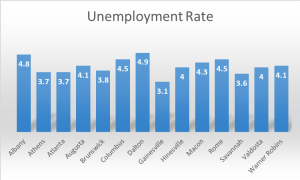 How to make sense of these sometimes conflicting pieces of information? The Labor Market Index I calculate for all metro areas in Georgia incorporates five different economic variables (employment, unemployment rate, earnings, hours worked and labor force) to encapsulate the complexities in one number. All metro areas had an index number of 100 in 2007 when the data series started. The chart below shows that Gainesville has grown the most, closely followed by Atlanta. Augusta comes in fourth. Seven metro areas have barely grown in the last 12 years and Dalton has declined.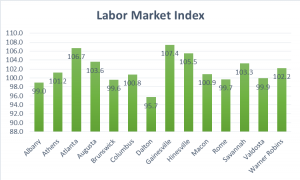 So if Gainesville is England, Augusta is India with a very strong economy.