It was a historic moment May 12 when three of Hull College's MBA graduates, the first of the College's online graduates, walked across the stage at the Bell Auditorium.
They started their graduate degree journey in fall 2020 as the first cohort from Augusta University enrolled in the Georgia WebMBA® program, a consortium of seven University System of Georgia business colleges.
"It is a good universal degree. I feel like I can do anything. It will help me when I open my chiropractic practice," said Amber Roberts of Augusta, one of those first online MBA graduates. "I'm able to break out and do anything that I want to do."
She attained her doctor in chiropractic medicine from Life University in Marietta, GA, in 2020 and has been working as a chiropractor. She is also a store manager for the apparel retailer fab'rik Augusta in Surrey Center.
Despite the busy work schedule, she was able to complete her master's degree in five semesters due to the flexibility and cohort nature of the online program.
Richard Franza, Ph.D., dean of the College, said it is important for Hull to have an online education presence and provide options for working professionals who don't have the ability to come to campus.
"It is another program in our portfolio," he said. "We've had a very successful campus MBA. We have a lot of people who want a degree from AU. Joining the consortium has worked out great for us."
According to data from the College's accrediting body, the Association to Advance Collegiate Schools of Business (AACSB), there were more students enrolled in online programs during the 2020-2021 academic year than in-person campus programs, a milestone moment for online MBA programs.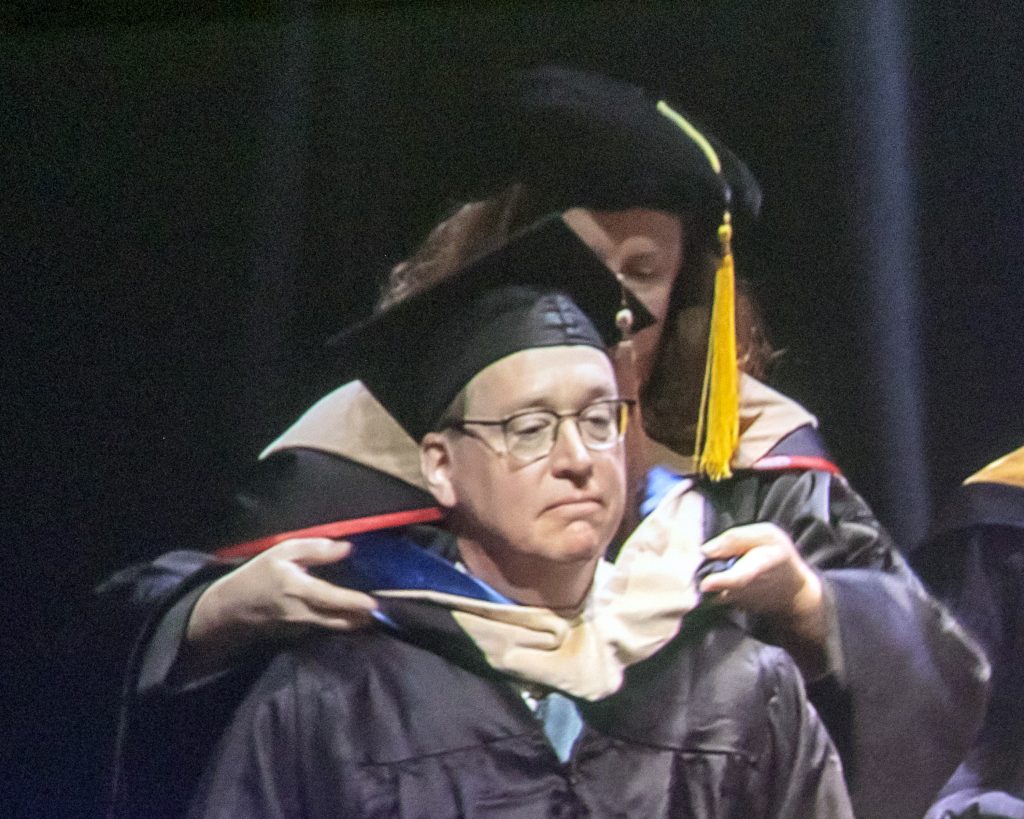 William "Gene" Cannady, M.D., pediatrician at Pediatric Partners of Augusta, was initially signed up for the campus MBA and switched to the WebMBA when the option became available. He thought it would work better with his work schedule since pediatricians don't always end their work day at 5 p.m.
Cannady said getting his MBA was something he considered for many years as he became more involved in the business side of the 11-doctor pediatric practice. "I had no business knowledge, it was all learned on the fly."
He enjoyed the online learning experience because of the flexibility, doing most of his classwork in the morning prior to going to work. "I have a wife and three kids, but I didn't miss any ballet performances and baseball games while getting my degree."
Cannady said his favorite course was entrepreneurship, which surprised him because he didn't consider himself to be an entrepreneur even though he is a business owner.
"I look at reports differently. I make plans better. Even the way we look at buying buildings, [the MBA] has been an asset. It has paid for itself just this year with some of the business ventures that we've done."
Students enrolled in the WebMBA have access to top professors in the participating USG business colleges.
The courses are asynchronous, meaning the students can accomplish their classwork at the time of day or days of the week that suits their needs.